Windows Server Monitoring
Use NetCrunch to monitor Windows Server resources, services, and metrics. Gain control and insight of your Windows Server infrastructure health with full monitoring and trend data collection from the entire Windows Common Information Model (CIM).
Monitor and manage Windows Server infrastructure
For many businesses, Microsoft servers, applications and services represent a critical role and significant investment in their IT infrastructure. Properly managing and maintaining your Microsoft assets represents a significant challenge from both a physical and human resource perspective. NetCrunch gives you all the necessary tools to take charge of your most significant software investment and provides immediate ROI by ensuring comprehensive Microsoft monitoring, out-of-the-box and agentless. Using NetCrunch, system administrators rapidly deploy multi-tiered monitoring strategies that will quickly identify:
Under/Overutilization by monitoring core metrics
Underperforming services and reasons why
Utilization and performance trends for effective resource road mapping
Advanced monitoring strategies for Microsoft Enterprise products including Active Directory, SQL Server, IIS, Sharepoint and many more
Use NetCrunch to go from nothing to fully monitored, in minutes.
Monitor External Windows services
During discovery, NetCrunch evaluates devices against a list of services that are critical to your overall Business Continuity strategy. This list is a focused subset of over 70 services that NetCrunch not only detects but also performs a service hand-shake, giving NetCrunch the ability to detect and validate both availability, performance; and is a core tenant of device availability. By understanding what services a Windows Server provides, NetCrunch delivers an awareness of a device's role in your infrastructure and aligns Windows Administrators with the fundamentals of user perception which is service-based and simple: Up/Down, Fast/Slow.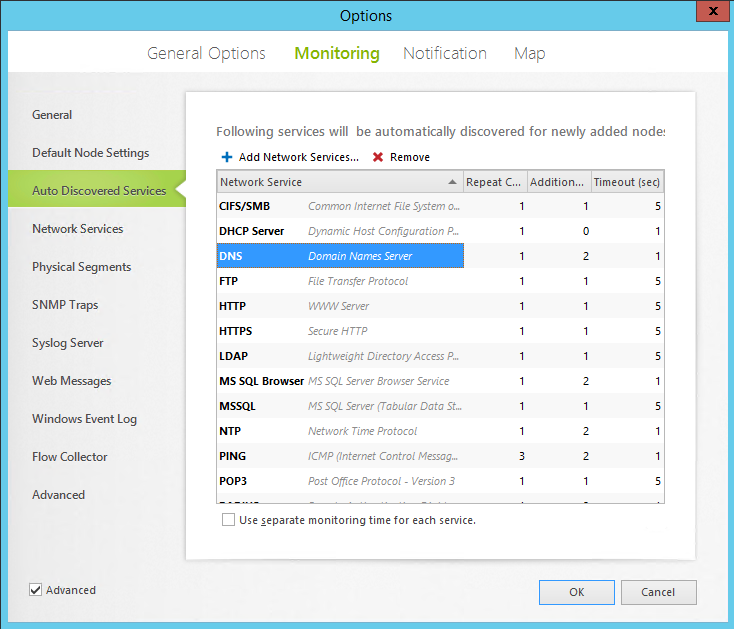 Rather than relying on a simple ping, NetCrunch automatically builds a service profile from your service discovery preferences that result in an expanded monitoring awareness based on multiple services, their availability and response performance.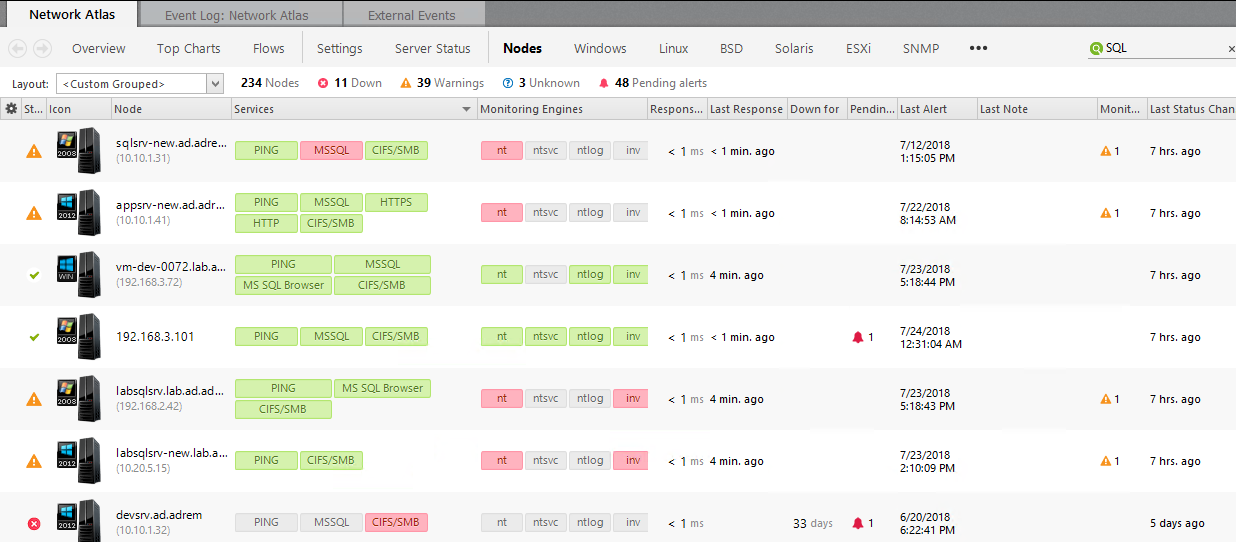 NetCrunch allows you to designate a leading service, and to adjust the frequency of the service handshakes to match your desired SLA.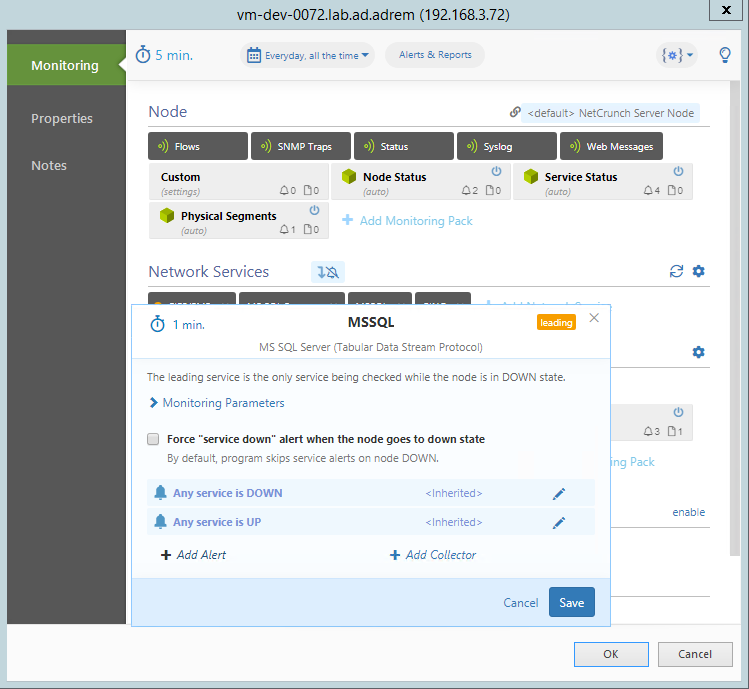 Windows Server and Microsoft Application monitoring packs
NetCrunch contains 35 Microsoft server and application packs. At the time of device discovery, server resource and Active DIrectory monitoring packs will self-apply, giving you a zero-touch, out-of-the-box monitoring for your critical Microsoft infrastructure. Simply add additional packs to your MS applications as you may require and you are covered.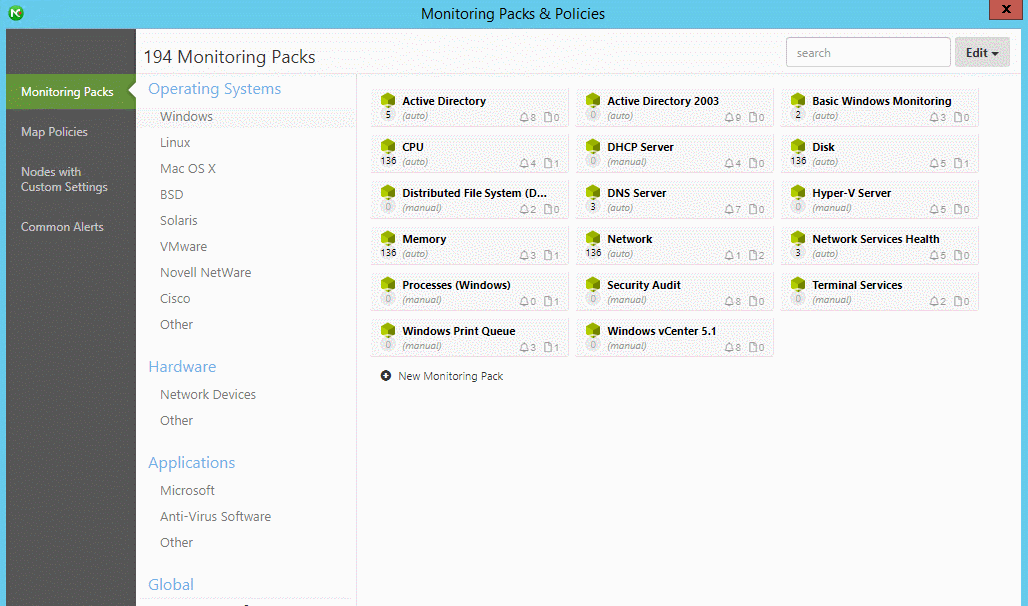 Access the full Common Information Model
NetCrunch places no limitation on access or quantity of monitored Microsoft OS metrics by giving you complete access to the CIM of each Windows node. Connecting via Permon, NetCrunch will effectively 'walk' your target device and allow you to choose from any metrics provided by the Microsoft Windows operating system. You no longer have to rely on agent updates or finding the right sensor. It's all there.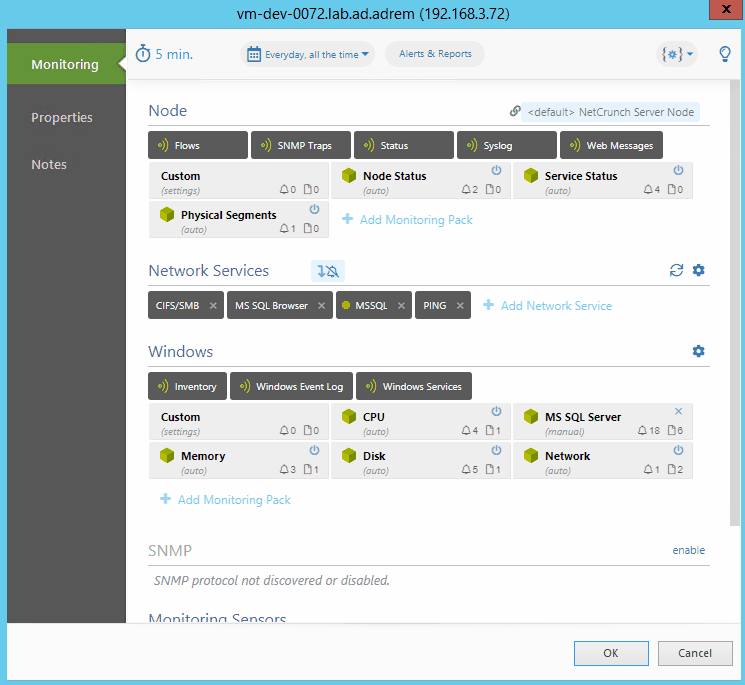 Windows sensors and Templates
Refine your Windows Server monitoring strategy by using individual sensors, which provide a functional test of consumption, or collection of customized metrics for targeted use cases. Each sensor includes a Test Mode that allows you to confirm your sensor configuration and return data prior to saving.
NetCrunch sensors are multi-protocol which eliminates the hunt for the right sensor and allows you to configure your sensor correctly the first time. Monitoring template nodes give Windows Administrators the flexibility of managing the combination of Service, Monitoring Pack and Sensors strategies into a policy format, providing a single point for managing complex monitoring strategies. Spend less time configuring your monitoring solution and more time administrating your Microsoft investment.
WIndows sensors include:
Microsoft SQL Server Data queries or Object Status queries
Windows Process and Process Groups ( eg: SQL*)
SMART HD Status
Custom WMI Perfmon, Data, Object status
WMI Time Difference
WMI Remote Ping
CIFS File and Folder Sensors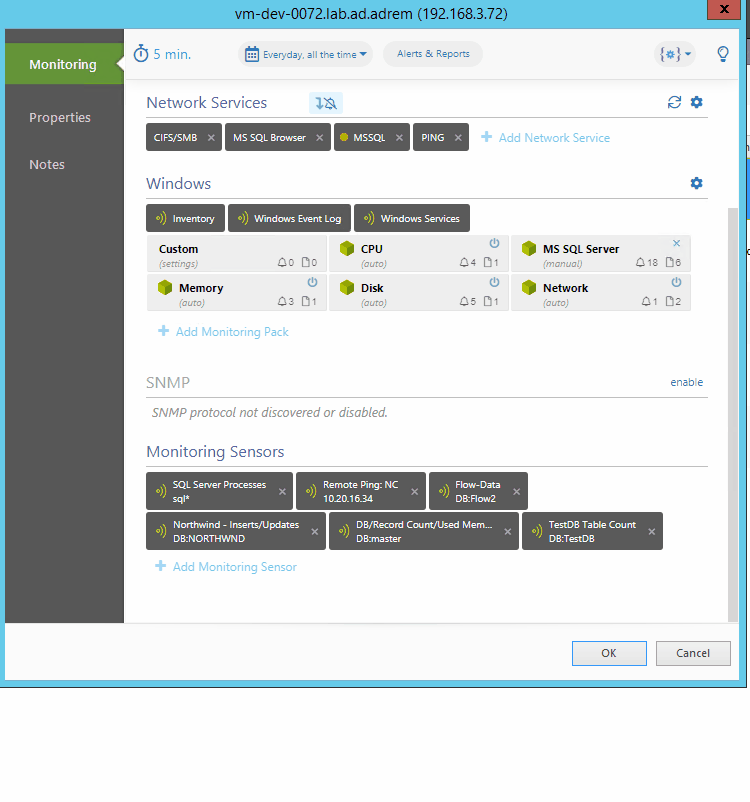 Take command of Win OS configurations and software inventories
Use NetCrunch Windows Inventory View for complete visibility into hardware and software updates and changes. By comparing current OS configurations with previous operating system save-states, Windows System Administrators will quickly identify if software updates or hardware configuration changes are the reason for poor performance. Take command of your Windows update levels on business critical systems and quickly digest your Windows system's change history.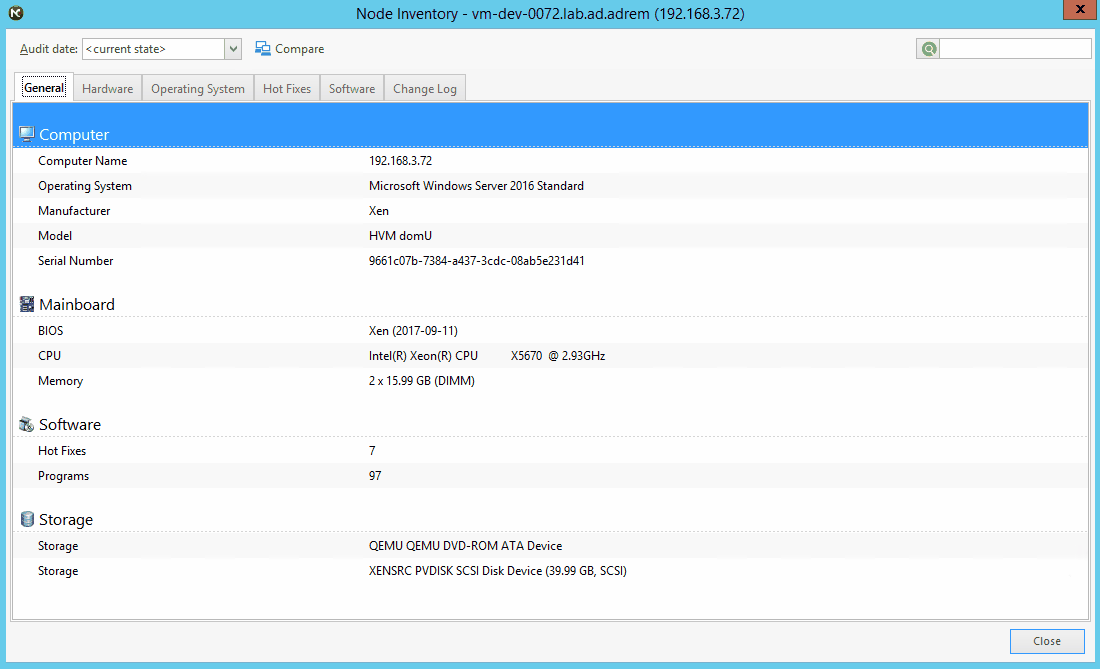 windowswindows serverwindows server monitoring